Biked past the shuttle bus stops in downtown Brooklyn this am and it was teetering on Mad-Max style dystopia.

—
Christopher Hayes (@chrislhayes) November 01, 2012
Brooklyn-based commuters into Manhattan have a tough road ahead — literally. With the MTA getting back up and running only very gradually, many travelers are relying on the shuttle system. The surging number of shuttle riders has put a heavy strain on city transportation, and today, commuters are being greeted by long, long lines.
My cousin walked to Harlem today from Brooklyn. Took him 3 hrs. I guarantee it was a better look than the shuttle buses.—
Joi H. (@bkjoi78) November 01, 2012
People from Brooklyn have been waiting 1-4 hours to get on the shuttle buses…to get into the city…—
어쩌라고 고 고 (@Minkipk84) November 01, 2012
Whoah. This commuter bus situation is .. wow betabeat.com/2012/11/brookl…—
Colin Campbell (@BKcolin) November 01, 2012
If you're in BK and don't have to leave, don't. NYC Minus MTA: Photos of Insanely Long Shuttle Bus Lines betabeat.com/?p=68654 via @betabeat—
Jennifer Bergen (@jennybergen) November 01, 2012
This line for the shuttle in Brooklyn looks like the bread line during the depression.—
Jeff C. (@_JeFFF) November 01, 2012
Every person in line for the shuttle bus from Brooklyn is instagramming—
Hannah Thurman (@hannahthurman) November 01, 2012
And the results are pretty amazing:
Wrap around line waiting for a shuttle bus in Brooklyn instagr.am/p/RfGqbcJt7d/—
Shaniqua Garvin (@ShaniquaGarvin) November 01, 2012
Breaking: chaotic scene in downtown Brooklyn as thousands of people line up to board free shuttle buses to Manhattan. http://t.co/y2wQpx1G—
Jack Fink (@cbs11jack) November 01, 2012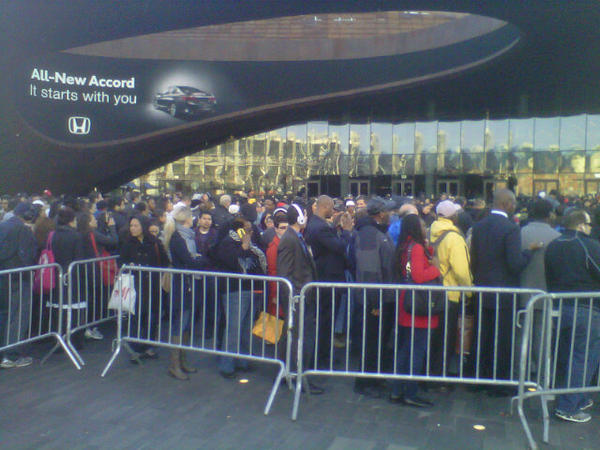 This is the line for people trying to get on shuttle busses at Barclays Center. Line is around whole arena. http://t.co/ErnIyGRM—
Al Ragone (@Alragone) November 01, 2012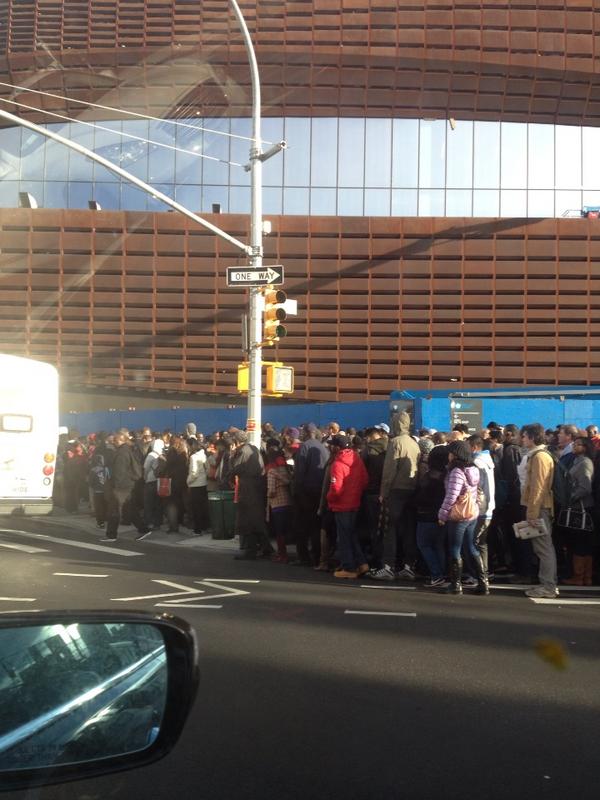 Madness in #brooklyn by the #barclaycenter to get a bus into #nyc lines wrapping the Barclay center 2x! instagr.am/p/RfG26vxCYU/—
(@DjTBLaZe) November 01, 2012
And here's what the *front* of the Brooklyn-Manhattan shuttle bus line looks like. It actually wraps around instagr.am/p/RfQt78mMjO/—
(@NYCAviation) November 01, 2012
Line to get on bus to Manhattan looks like a scene from those movies when they evacuate #NYC. Where's Wil Smith? http://t.co/XKAD1tfE—
Stephen Krill (@stephenkrill) November 01, 2012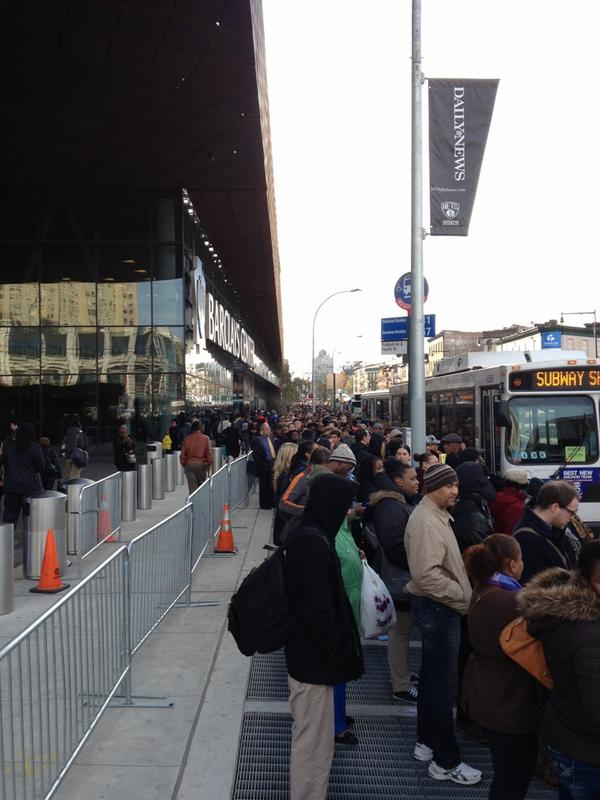 The line for the Brooklyn-Manhattan shuttle from Jay Street is fucking nuts. Gotta be at least 5 blocks of people—
Tim McDonough (@phish83) November 01, 2012
. @GridlockSam People should be avoiding driving on Jay Street in Brooklyn. The shuttle bus traffic is making it untenable.—
Adam (@Carnegro) November 01, 2012
Long line for shuttle bus going to Manhattan from downtown Brooklyn – Jay St. Traffic still bad. yfrog.com/nzomcnij—
Martha Adeline (@MarthaDeline) November 01, 2012
The line snaking from Jay street under a tunnel in downtown Brooklyn for shuttle buses to Manhattan http://t.co/YrDsxqKy—
karen mcveigh (@karenmcveigh1) November 01, 2012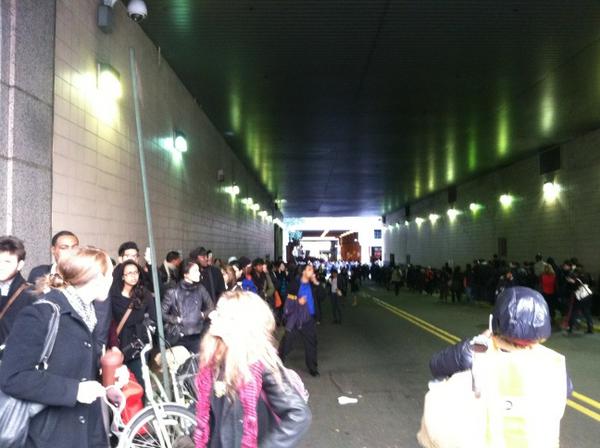 My new apt view: Brooklyn – Manhattan bus line (block 2 of 6) #Sandy #aftermath #commuters #mayhem instagr.am/p/RfTaDNykQP/—
Virginia Laird (@virginialaird) November 01, 2012
My morning commute from Brooklyn to Manhattan via shuttle buses. 1000s walking in line, circling the blk 2x for an hr. http://t.co/knJsBi8R—
Tracey Hughes (@traypeace) November 01, 2012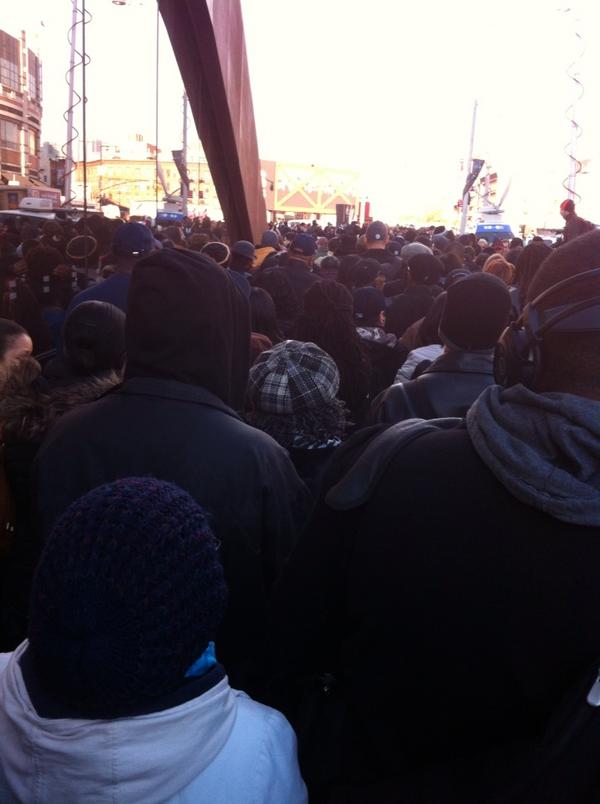 More lines to get on shuttle to Manhattan from Brooklyn http://t.co/QWp40CVk—
Shayna Estulin (@SEstulin) November 01, 2012
Photo: the line for the brooklyn shuttle. imagine this ten times. Sent via BlackBerry by AT&T tmblr.co/ZnGEowWO4RyB—
Dave of The Paxtons (@DaveThePaxtons) November 01, 2012
the line to get on the manhattan shuttle looks at least 1,000 heads deep. damn, downtown brooklyn. godspeed.—
huny golightly (@huny) November 01, 2012
Just saw friends pics of endless lines in Brooklyn for shuttle buses into Manhattan. Good luck everyone.—
(@ckoh) November 01, 2012
Indeed.