Totally insane as people are running out of gas in their cars while trying to find gas or wait for it. Beyond crazy here in NJ

—
Eddie Trunk (@EddieTrunk) October 31, 2012
Following Hurricane Sandy, many New Jersey gas stations are still without power and supplies are running low at those that are open. Reuters reports:
In New Jersey, where half of all businesses and homes were still without power, more than 80 percent of filling stations are unable to sell gasoline, said Sal Risalvato, head of the New Jersey Gasoline, Convenience, Automotive Association (NJGCA).
As residents struggle to find fuel for cars and generators, the gas station lines in some parts of the Garden State are stretching not just for blocks, but for miles.
Pretty weird driving around northern #NJ today. Gas station lines like the 1970s. #sandy—
Jeff Kent (@jkent26) October 30, 2012
Line for gas is few miles long @ New Jersey Turnpike Exit 11 instagr.am/p/RdSJITuEw9/—
Soraya Piergrossi (@SorayaShushtar) October 31, 2012
A 2 mile line for gas at a service stop on the Garden State Parkway instagr.am/p/Rc7gkHQCNs/—
Al Roker (@alroker) October 31, 2012
mile-long lines of cars waiting to get gas along the #gardenstateparkway #nj #parkway instagr.am/p/RdOm3rM-lO/—
vince (@dreamanxiety) October 31, 2012
More than a mile backup 4 gas on the GSP In Monmouth. Cops at exit stopping ppl from cutting in line #njgas @njdotcom http://t.co/RDfmPm2J—
NJ.com/monmouth (@Monmouth_NJ) October 31, 2012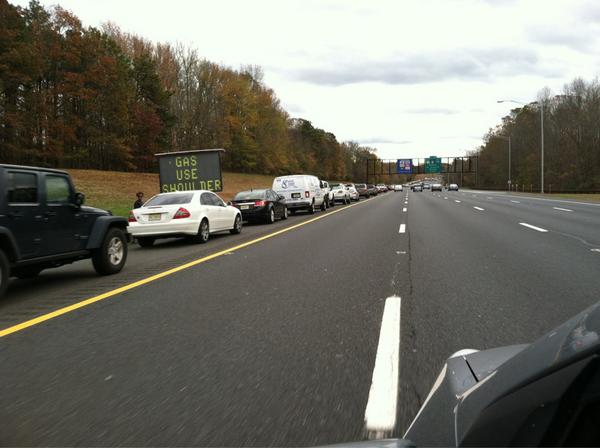 At other New Jersey stations, people are lining up on foot with gas cans.
Westfield NJ. Standing on line one block long to get gas in containers. Going home to preserve my 3/ @ Exxon instagr.am/p/Rcuel_lur9/—
A. W. (@runsbikeswims) October 31, 2012
Friend took this photo of incredible lines at gas stations in New Jersey http://t.co/krmDbG5x—
Matt Vasilogambros (@MattVas) October 31, 2012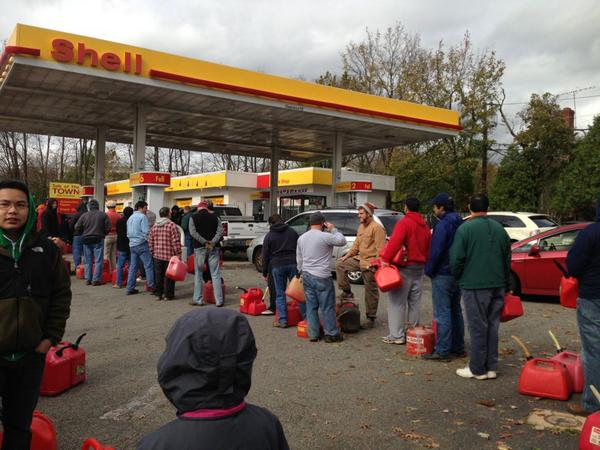 People lined up to fill there gas cans by the actual gas truck in jersey because the gas pumps wont work #sandy http://t.co/JwEHcKnY—
brendan doyle (@thawisemansays) October 31, 2012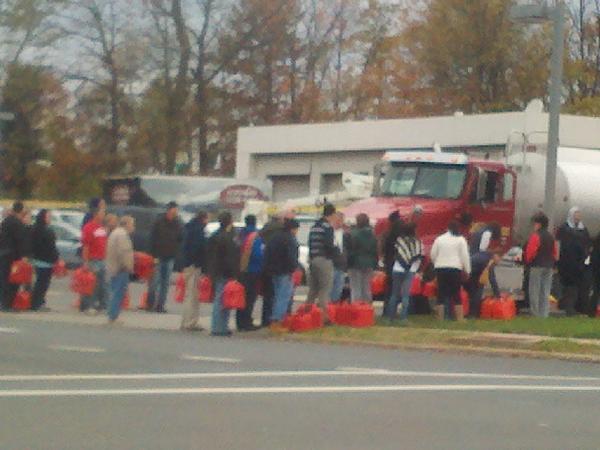 As Gulf Coasters did during Hurricane Isaac, New Jersey residents are using the power of Twitter to help each other find gasoline.
Going to try to start hash tag. Please report any open gas station #NJGas. Jersey residents could use the help.—
(@MikeyYeahYeah) October 30, 2012
The #NJgas hashtag is filled with up-to-the-minute reports on which stations are open and how long the lines are. Others are requesting information about where to find gas. Some recent tweets from the hashtag:
Rt. 10 West in Parsippany has a Raceway gas station open #NjGas—
Dan Muniz (@dmuniz1) October 31, 2012
@nj1015 Need gas in Woodbridge. My route is rt 1 to 287n. Hess and WaWa lines on rt 9 are out of control. #njgas—
Joe Hanover (@joehanover) October 31, 2012
Whole foods Middletown #njopen bp gas hwy 35 open #njgas #njopen mobile and Exxon in lincroft #njopen #njgas—
sharon onthemove (@sharononthemove) October 31, 2012
#njgas bp on smain st in pburg. $3.39 & NO LINE—
Joe Rimback (@JRimback) October 31, 2012
Gas Station up on Bloomfield Ave by Community Center in #Caldwell only has diesel left #njgas—
Durkin and Vezza (@DurkinandVezza) October 31, 2012
The Wall Street Journal reports that it may five to seven days before gasoline is delivered to some stations.