NYCs Gowanus Canal, one of the world's most toxic waters, is running over, spilling into the city. This is how the Zombie Apocalypse beings.

—
Sebastian Wupper (@SebWuepper) October 30, 2012
The Gowanus Canal overflowed its banks Monday, flooding the surrounding streets with polluted water. The Gowanus is a Superfund site described by the Environmental Protection Agency as "one of the nation's most extensively contaminated water bodies."
Gowanus underwater – Bond and 1st #sandy instagr.am/p/RY3ZVxiGkD/—
Mike Lavoie (@mikelavoie) October 30, 2012
Rotten egg sludge with a hint of poo RT @JeremyBusch How would you describe the smell to non Brooklynites? #Gowanus—
Bryan B (@subinev) October 29, 2012
New York City officials weren't too concerned about toxic aftereffects.
Mayor and an official, I believe with DEP, said they don't anticipate serious issues on Gowanus "We'll just clean it up like anything else"—
Hunter Walker (@hunterw) October 29, 2012
But the Department of Environmental Protection urged people to wash up after coming in contact with the contaminated water.
#Sandy MT @hunterw: DEP statement on Gowanus advising people who get canal water on them to "wash their hands and practice proper hygiene"—
Sean Collins (@SeanPCollins) October 29, 2012
That wasn't much comfort to area residents watching the canal water seeping toward their front doors.
liking that we havent lost power or internet yet. not liking that the toxic and flooded gowanus canal is so close by #sandy—
Samuel Purcell (@iamsampurcell) October 30, 2012
the gowanus is so fckn toxic. #bloomberg gonna do something about this?—
Edward Pietrowski (@EdPietrowski) October 30, 2012
Gowanus floodwaters officially about 5-10 yards from my front door http://t.co/kPkVzAmI—
Rosie Gray (@RosieGray) October 29, 2012
Gowanus madness #sandy instagr.am/p/RY4387iGlT/—
Mike Lavoie (@mikelavoie) October 30, 2012
A photo of the overflowing superfund site that is the Gowanus Canal. #Sandy is getting #gross http://t.co/1jSPoDGu—
Melissa Mahony (@mahony128) October 30, 2012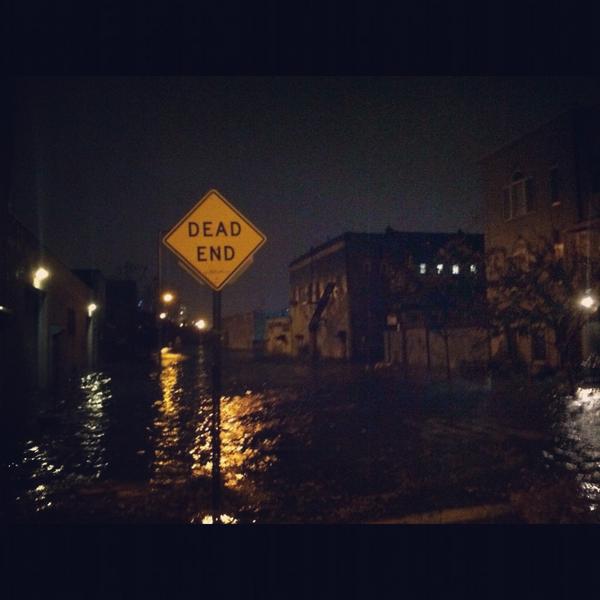 Not just floodwater–TOXIC floodwater. RT @mtcboom Gowanus Canal flooding on Nevins St btwn Degraw and Sackett. #Sandy http://t.co/4s432whd—
Melanie Chandler (@StarbucklyEsq) October 30, 2012
Gowanus water has now almost reached 3rd ave at 9th st. Metal debris flying everywhere. http://t.co/7zzSU8Fe—
Eddy Kim (@Eddy_Kim) October 30, 2012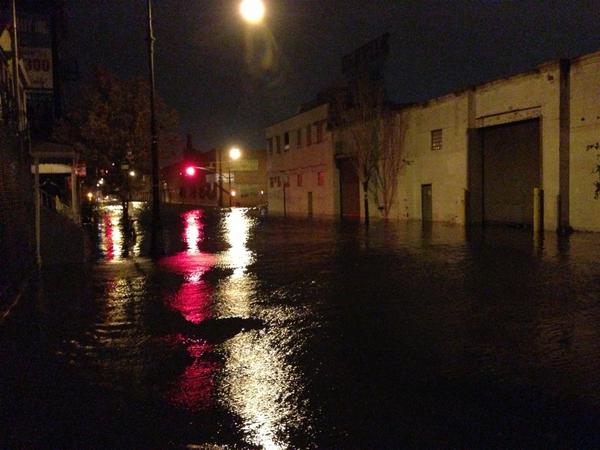 gowanus canal flooding http://t.co/CZLZGeiP—
Stephen Witt (@stephenwitt) October 30, 2012
Area residents also had to contend with a fire.
Well that explains the smell RT @taliator: Big fire in Gowanus near 2nd Ave & union, sounded like a building collapse http://t.co/HbHMpeKP—
GHOST MUTT (@BenjaminBirdie) October 30, 2012
Acrid smell: Fire. Electric. Gas. Gowanus funk. Horribly reminiscent.—
Rebecca Traister (@rtraister) October 30, 2012