RT @sirgutz: So it begins..pic of NYC right now!! Here we go Sandy. http://t.co/oxKJfb9H

—
Andrew Kaczynski (@BuzzFeedAndrew) October 29, 2012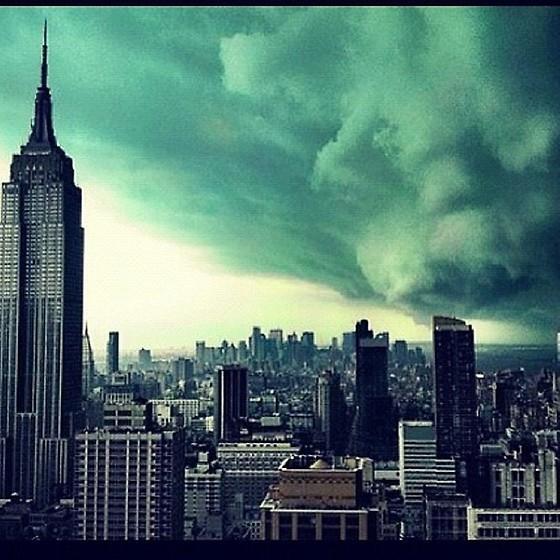 Earlier today, we told you about a photo being circulated around Twitter that purportedly showed sentinels guarding the Tomb of the Unknown Soldier while being pelted by rain from Hurricane Sandy. While the photo itself was authentic, it had actually been taken during another storm last month. Today alone, Twitterers have been fooled by several photos falsely being attributed to Hurricane Sandy.
A dramatic weather event like Hurricane Sandy lends itself well to rampant Photoshopping and manipulation. Here are some of the biggest Sandy photo hoaxes:
You'll probably see this photo today. It's fake. #NYC #Sandy http://t.co/gwrDDPP5—
John de Guzmán (@johndeguzman) October 28, 2012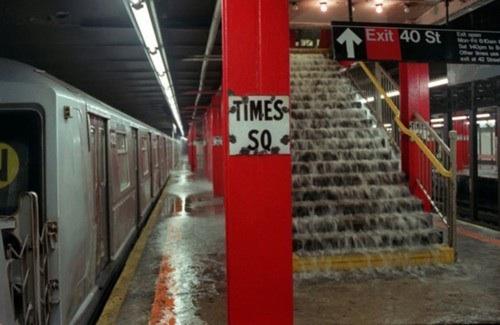 Eery pic as Sandy moves closer RT @sparky4886: Brooklyn Bridge #HurricaneSandy http://t.co/NFUEs7X7—
Sarah Simmons (@SimmonsFox5) October 29, 2012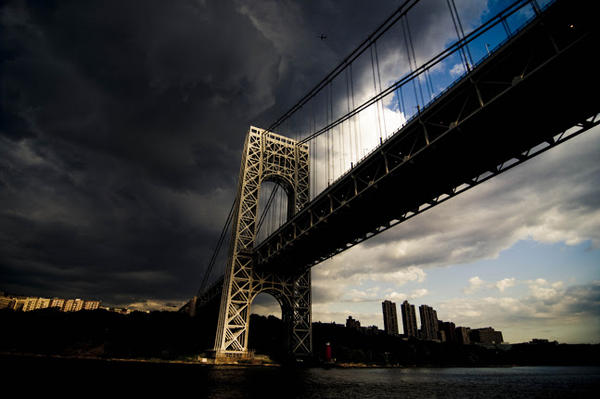 @SimmonsFox5 @sparky4886 That's the GW Bridge and it's an old photo!—
Matt Shifman (@AndyScoggin) October 29, 2012
@IsTwitWrong Another one doing the round twitter.com/SimmonsFox5/st… (it's actually a stock pic gettyimages.co.uk/detail/photo/g… )—
Elliot Bentley (@elliot_bentley) October 29, 2012
Whoops.
Wow! #HurricaneSandy #sandy #NYC http://t.co/0gAD1noM—
Lauren LaPointe (@Lauren_LaPointe) October 29, 2012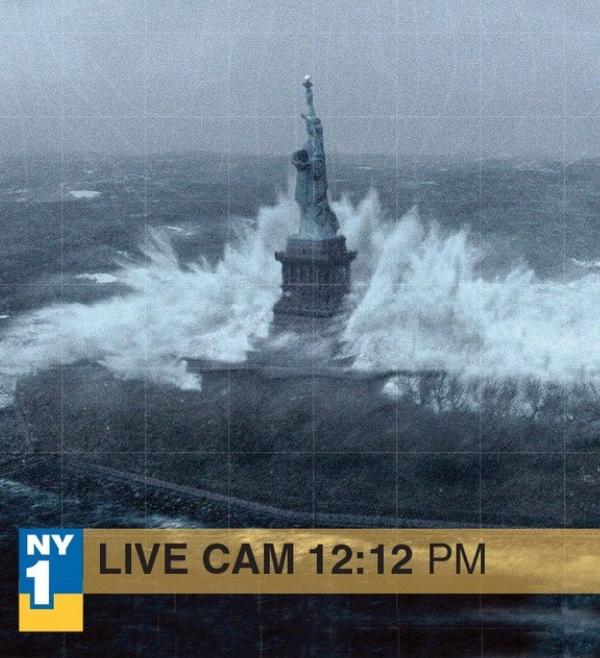 As this Twitterer points out, that photo is actually a still taken from the crappy global warming disaster flick "The Day After Tomorrow":
@Lauren_LaPointe Yeah, that's from Day After Tomorrow.—
Roozbeh Ashtyani (@Rooz739) October 29, 2012
This incredible photo has been getting a ton of buzz on Twitter:
Awesome and terrifying image: the Frankenstorm versus the Statue of Liberty in NYC. http://t.co/lIs75iei—
Van Jones (@VanJones68) October 29, 2012
I'm super suspicious of the Sandy & Statue of Liberty pic making the rounds. Screams fake to me. Anyone? on.fb.me/Sop6pQ—
Zeynep Tufekci (@techsoc) October 29, 2012
She was right to be suspicious. Photoshopping, anyone?
Lots of fake #Sandy pics out there, folks. Like the last one I tweeted. I'm in Manhattan & everything looks pretty normal right now.—
Jedediah Bila (@JedediahBila) October 29, 2012
Apparently I got duped. Not real, which is disappointing? RT @VivekRamgopal: @LakersNation @joshbtucker It's a fake one blogs.phillymag.com/the_philly_pos…—
Josh Tucker (@joshbtucker) October 29, 2012
=( That Awesome Hurricane Sandy Photo of the Statue of Liberty is fake. blogs.phillymag.com/the_philly_pos…—
Andrew Kaczynski (@BuzzFeedAndrew) October 29, 2012
It's worth noting that Buzzfeed's Andrew Kaczynski was among the most enthusiastic tweeters of fake Sandy photos. Mysteriously, his tweets touting the photos seem to have disappeared. Funny, that. Buzzfeed put out a real-versus-fake quiz of Hurricane Sandy photos and made no mention of his errors. Fortunately, some of his tweets have been preserved for posterity here.
Kaczynski is now attempting to cover his tracks by pushing out blatantly fake photos:
Man, look at the storm by the United Nations. http://t.co/4vd9aDdP—
Andrew Kaczynski (@BuzzFeedAndrew) October 29, 2012
Nice try, Andrew. But next time, just admit you messed up.
Fake photo fatigue is already setting in, and Twitterers are hoping that the hoax storm weakens quickly:
Most pictures of Sandy on Facebook today are fake: photoshops, or pictures from past storms. So, fact-check before posting, please.—
Bora Zivkovic (@BoraZ) October 29, 2012
I've weathered a lot of storms on Twitter but ppl thinking the fake pics/movie stills they're posting of #Sandy are real might be the worst.—
Sarah Spain (@SarahSpain) October 29, 2012
***Warning***-If you send me a fake pic on Twitter or Facebook about #Sandy you get immediately blocked!—
Brad Panovich (@wxbrad) October 29, 2012
Stop retweeting those stupid, fake hurricane sandy pages. It's not even funny—
bri. (@iAmBeeAreEye_) October 29, 2012
I wish the dork storm chaser rejects would quit photoshopping fake #Sandy pics to pass around.—
Aaron Tuttle (@AaronTuttleOK) October 29, 2012
Why are people still putting up all these fake pics of "sandy in newyork city" lol the pics are from a previous storm dumb fucks.—
Paul Yokemick (@PaulY196) October 29, 2012
So annoying! People need to stop! RT @BryanShaw4: All FAKE #Sandy photos
bit.ly/TqvJrz fb.me/27uhZ48pn—
Ted McInerney (@tedmcinerney) October 29, 2012
All these fake, outdated pictures of "Sandy" are driving me insane. Check your facts people.—
GSU Belle (@TheGSUbelle) October 29, 2012
Already I'm annoyed at the number of fake Sandy pictures on Twitter. Get it together, people.—
Awful Announcing (@awfulannouncing) October 29, 2012
Pretty much every pic of Hurricane Sandy I've seen is apparently fake. Scary how these things spread unchecked on Twitter.—
Laurence Green (@LaurenceTGreen) October 29, 2012
Fucking hell, people. Quit tweeting fake pics of Sandy.—
Michele (@book_faerie) October 29, 2012