15,000 at Romney's rally in Land O'Lakes, Fla., per fire marshal via campaign. One of Romney's largest events to date.

—
Philip Rucker (@PhilipRucker) October 28, 2012
Capping a day of rallies in Florida, Mitt Romney attracted one of the biggest crowds of his campaign Saturday night in Land O' Lakes, Fla., speaking before an estimated 15,000 people.
Romney's crowd of 15,000 in Land O' Lakes Fla. tonight may be biggest of his entire candidacy.—
Michael Barbaro (@mikiebarb) October 28, 2012
Doubling down on Obama, doubling up on ropeline MT @RomneyRoadTeam: Romney greets supporters on way out of rally in FL! twitpic.com/b80du3—
Sarah Boxer (@Sarah_Boxer) October 28, 2012
MASSIVE Crowd in Land O' Lakes, Florida. 15,000+ fill football stadium. They are ready for Big Change. #RomneyRyan2012 http://t.co/QdJnlddY—
Mitt's Body Man (@dgjackson) October 28, 2012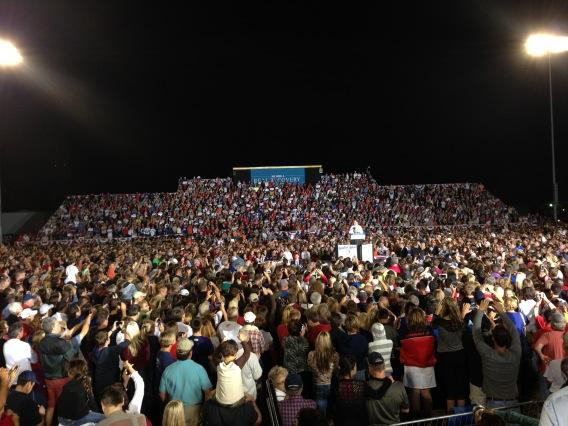 Land o lakes is seriously not big enough for all these people.—
Austin Figga (@AustinFigga) October 28, 2012
RALLY: Mitt Romney campaigns in Land O'Lakes, Florida via @AP http://t.co/JwXC80ej—
Charles Dharapak (@CharlesDharapak) October 28, 2012