Romney - you see this? This is me cooking your goose. In Michigan. Where the trees are used to make ballots to defeat u http://t.co/hxmvyUxA

—
Michael Moore (@MMFlint) October 27, 2012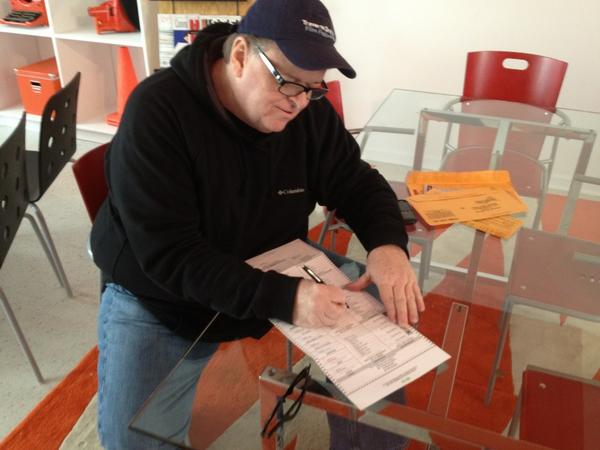 Apparently this is the vote which will cook Mitt Romney's goose, so Michael Moore made sure to capture the moment from two angles with some sort of evil capitalist picture-taking device. (We'll settle for one.)
Here's a photo of the completed ballot, just in case you were wondering.
http://t.co/99NKKwxd—
Michael Moore (@MMFlint) October 27, 2012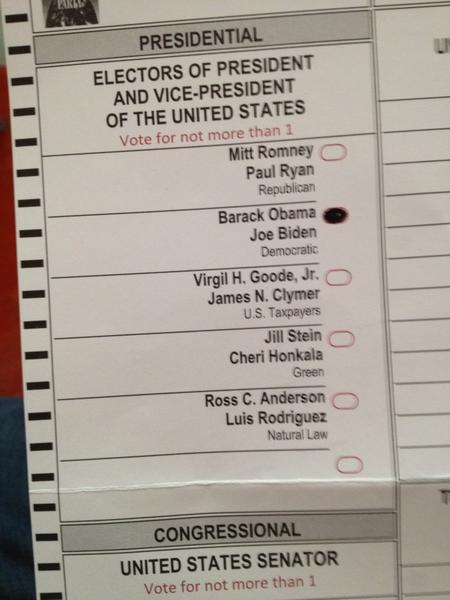 We don't know for certain if Michigan trees were used to make this particular ballot, but we don't advise tweeting a photo of yours; it's illegal in some states.
@MMFlint Check your state but taking a pic of your ballot might be against the law.—
David C (@DaveCinVA) October 27, 2012
@MMFlint Violating the secrecy of the ballot? Tut. Tut. :-)—
Tony Byrne (@tonyjbyrne) October 27, 2012
Some are upset to see that the president's name is not at the top of the ballot — it's disrespectful.
Disrespectful that the current POTUS is not up top RT @MMFlint: http://t.co/QW9NJUDA—
HumanBot  (@JennyDivine) October 27, 2012
@MMFlint why does Romney's name come above Obama's????????!—
Michelle Daintith (@MDaintith) October 27, 2012
@MMFlint WHY is Republican first on Ballot? Hasn't incumbent earned that right… remember 2000?—
John P (@Pack_Cat) October 27, 2012
@MMFlint we Canucks have never seen a ballot….now, .why the hell is the Mittster on the top of the ballot…..?—
Brian Potts (@7Flash7) October 27, 2012