This young "lady" just made a fake tweet from me: RT @Briki_Mayee: Smh " cc: @SecretService RT @ToddKincannon Fuck Obama. He must die!

—
Todd Kincannon (@ToddKincannon) October 08, 2012
Twitchy reported yesterday on one Twitter death threat against Mitt Romney (not to mention several which arose after his speech at the Republican National Convention). Todd Kincannon, who chronicled that threat, is continuing to record similar threats and meeting with a new form of "SWAT-ing" — having false threats submitted to the Secret Service account under his name.
Kincannon forwarded this tweet to the Secret Service, which led to the false report above.
https://twitter.com/Briki_Mayee/status/255421947767320576
Unfortunately, keeping track of threats is turning into a full-time job, or at least a two-person job.
https://twitter.com/ToddKincannon/status/255184049646215169
https://twitter.com/ToddKincannon/statuses/255190680467546112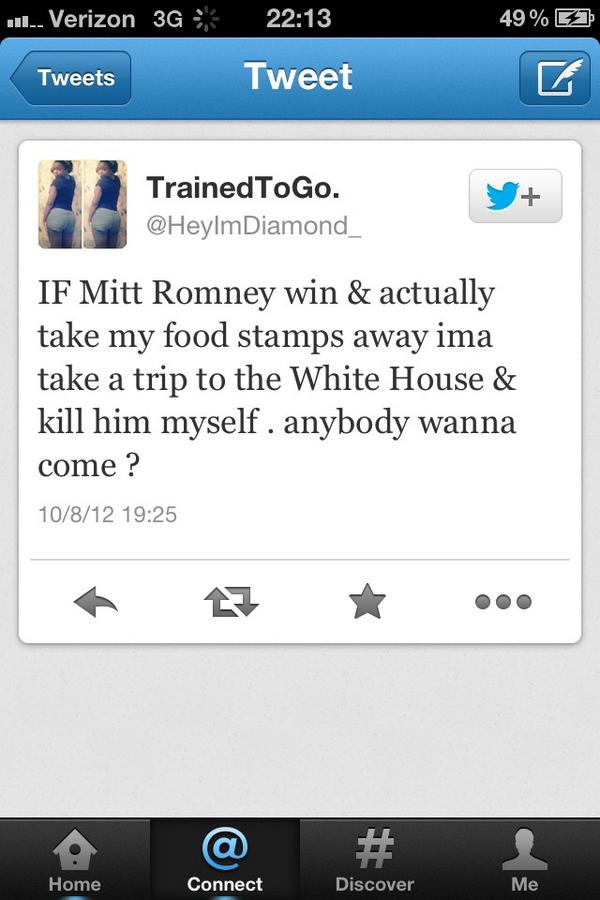 Twitter terms of service aside, this is some good advice:
http://twitter.com/ToddKincannon/statuses/255504378889379840