Down to two. Calvin Johnson and Cam Newton are in the finals of the Madden cover. Winner will be revealed April 25.

—
Tim Twentyman (@ttwentyman) April 18, 2012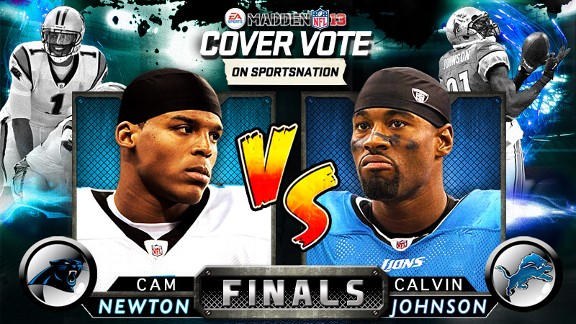 Beware Carolina and Detroit: Cam Newton and Calvin Johnson are squaring off in the Madden NFL 13 Cover Vote finale.—
Adam Schefter (@AdamSchefter) April 18, 2012
SO it will come down to Cam Newton and Calvin Johnson for next year's Madden curse….I mean cover.—
Ebenezer Samuel (@ebenezersamuel) April 18, 2012
After weeks of voting for the Madden 2012 cover boy, EASports has narrowed it down to Carolina Panthers quarterback, Cam Newton and Detroit Lions wide receiver, Calvin Johnson.
Even though history shows whomever is honored with the cover will likely be doomed for the year, both of these players have been actively campaigning for the honor.
Cam Newton or Calvin Johnson? Superman or Megatron? Madden 13?……my pick…………….Megatron!—
Jayson Fostanes (@JayyyySun) April 18, 2012
Calvin Johnson vs Cam Newton for the cover of Madden 13!!!?!!? It's a WIN/WIN either way! I would love to see Megatron on the cover tho!—
Samuel Logan (@Sammy_Socialite) April 18, 2012
Cam newton and Calvin Johnson for the madden cover – just give my boy cam the cover—
Warren (@_idomo) April 18, 2012
A lot of fans aren't voting for who they'd rather see on the cover. Instead they're voting for who they'd rather see cursed or not cursed.
Calvin Johnson is a STUD WR! I don't want him to undergo the Madden curse! Vote Cam newton!—
Izzy Mercado (@Izzy15Mercado) April 18, 2012
I want Calvin Johnson to beat Cam Newton to be on the cover of madden but I believe in the curse..and we can't afford for him to get injured—
Scott (@Mr_LayedBak) April 18, 2012
Looks like between Cam Newton & Calvin Johnson for the Madden cover. Unfortunately one will never be the same—
Jay (@krazy88s) April 18, 2012
Cam Newton and Calvin Johnson in the Madden cover finals. Oh, come on; haven't the Lions suffered enough?—
David Landry (@ElGhostoPigo) April 18, 2012
Well looks like Cam Newton or Calvin Johnson will be hit with the Madden Curse I feel like it'll be Cam Newton tho—
Vince Montana (@laflare_corleon) April 18, 2012
The results of the final vote will be revealed on April 25th.